Cut your companies Mobility Spend
by 20%-40%
with no change in providers.
=============================================
* RISK FREE * * RISK FREE * * RISK FREE *
=============================================
Did you know that even if you get the best mobile device rate from a provider(s), you are still overpaying for their service? This is because of the plan each line is assigned. What if you could change that plan daily to the best plan based upon forecast usage? Do you know your company could typically save 20% -> 40% a month without changing your service providers and not incur any out of pocket expanse... This would be a lot of work to do internally, unless...
To qualify for this service:
Is your company liable or own mobile devices? (Cellphones, Tablets, Air Cards, etc.)
Do you have 100+ lines of service?
Do you use a major provider such as Verizon, Sprint, AT&T, and T-Mobile?
You would like to save additional money on your bottom line by having an automated system optimize your mobile service daily?
Do you have 1 or more months of bills that can be used for a free estimate?
MazeCreator Broadband is proud to offer a very unique service available in Maine. If you qualify, we will obtain your monthly bills (electronic, PDF are okay) and have them processed for review to obtain an estimated savings. Upon the results of the estimate, you can decide if you wish to contract this service. Remember, the service fee will be based upon the actual monthly saving. If you save nothing in any particular month, there is no cost to you for the service. This is truly risk free for your company with potentially significant annual savings on wireless service fees.
Our goal is to solve your IT problems while working for you. We will bring recommendations and quotes to you for review and approval. We try to find multiple solutions to help show price variation and service options. The final chose is yours, we will be there to guide you and through our network, get access to subject matter experts if the need arises. Upon your selections, we will prepare any contracts needed and expect that you will be very happy with our services.
Have us help you reduce your mobile spend by 20% to 40%. Contact us by email or by calling today for more information.
Cut your Mobility Spend Risk Free by 20%-40% with no change in providers.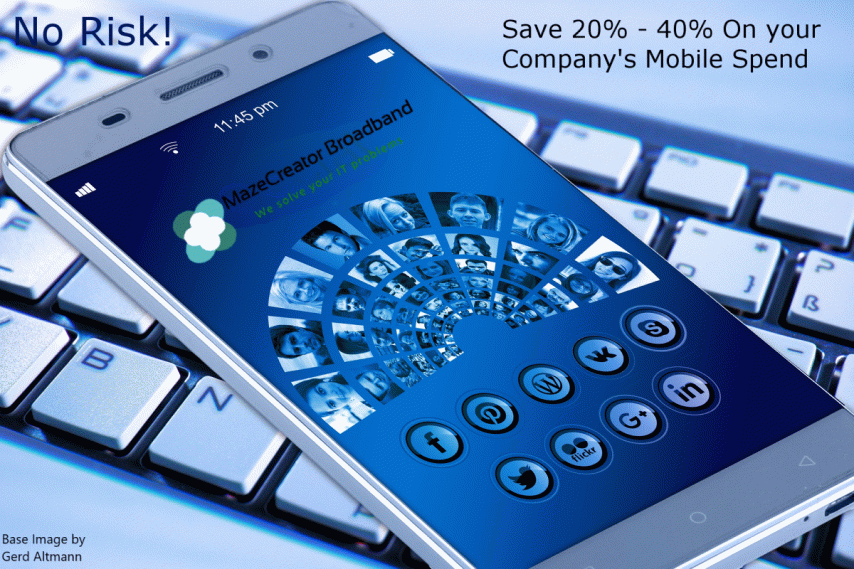 More Information Request Form
Please provide the following information and we will contact you ASAP regarding your request.